Good Morning Message to my love and Quotes for Her Girlfriend
Good Morning Message to my love: Every girl secretly dreams of having a boyfriend who sends her sweet texts while she's still rolling around in bed. You can be the guy of her dreams if you send cute wishes and romantic quotes about love, as you start the day. It might sound a bit cheesy and funny but it really doesn't take a lot of effort. Just think about your relationship and tap into your heart for something nice to say to her. Jot it down and send it to her by text, Facebook, Twitter or any other way you want to. A mushy greeting and a beautiful hello is all it'll take for you to earn tons of hugs and kisses if you follow it up by being the guy her heart beats for.
They say, even the moon has flaws. Even I think so, because imperfectly perfect is a sight rare to find, And so are you. Have a Splendid Good Morning!

---

There is a reason why distance seems gruesome, those many days, hours and minutes, which I spend without you, makes me strong enough, to love you without any boundaries. Have a Blissful Morning!

---

Those sweet nothings, those morning talks, those little memories. Have occupied a major part of my heart and soul, And I wish to create more with you. Have a Hopeful Morning!

---

Every morning I wish to wake up to your pretty face, taking in every ounce of energy I could gather. For the entire day to sail smoothly and effortlessly. Have a Wishful Good Morning!

---

The rising sun reminds me of your radiant face and the misty dew reminds me of your dreamy eyes. The sounds of the bustling city remind me of your soft whispers and the cool breeze reminds me of your tantalizing kisses. Good morning.

---

Today I promise to live without Facebook and Twitter if you promise to kiss me all day and make me feel better. Good morning.

---

Regardless of life's ups and downs, you're the sunshine that wipes away my frowns. xoxo

---

Since I've spent the night dreaming about you, I want to spend the day cuddling up with you. Good morning.

---

If the early morning sky was a representation of every person I know, you are the sun and everyone else is the fading stars, soon to disappear by your blazing love. Good morning.
Your smile is the only inspiration I need. Your voice is the only motivation I need. Your love is the only happiness I need. Good morning.

---

It takes just one second to think about you in the morning, but the smile on my face lasts throughout the day. Good morning.

---

I am tired of having to dream about you every night, I want you by my side so I can gaze at your beautiful sight. I am sick of waking up every morning and texting you, now I want to spend my mornings cuddling with you. I miss you, good morning.

---

Happiness, trouble, success, disappointment or failure – I don't know what's in store for the day, but I know everything will be fine as long as I have you in my arms. Good morning.

---

Your love is my strength in this fast-paced life, your love is all I need to motivate me to work. Towards our better future, towards a better use. Have an Inspiring Morning!.

---

You are my 2 am call, my midnight caffeine, my energy booster. My best buddy and most importantly, My Soul-mate, my love. Have a Best ever Good Morning!.

---

You're my stress-buster, my stress-reliever, Spreading peace around this. Chaotic mind and bustling life. Have a stress-free Morning!.

---

Your words serve a breather, your voice like a lullaby. Your laughter like a beautiful symphony, you make my worries vanish. Have a Musical Morning!.

---

I wish to be the one, whenever you need a helping hand. Guiding and walking along with you, Through those rough patchy phases of life. Have a Rocking Morning!.

---

You're the sunshine to my dark life, always bringing me out from those. Murky memories and horrific past. Have a Sunny Morning!.

---

You make me bring the best out of myself when I think I have certain limitations. You push me harder, you ask me to break the barriers, you make me go a step ahead. Have an Ambitious Morning!.

---

Even a lone tear doesn't go unnoticed, even without a word, you understand. You comprehend and wait till I am comfortable to talk about without asking in the first place. Have a Wise Morning!

---

You are the shore I wish to return, after a hectic and tiring day to satiate my life. Have a Fresh Morning!

---

You are the reason I have learned that not all days are going to be same. Staying still won't do any good, Moving on would. Have a Motivating Morning!

---

I don't know how long we will be together because that is not important. What I do know and what really matters, is that we will never be apart. Good morning.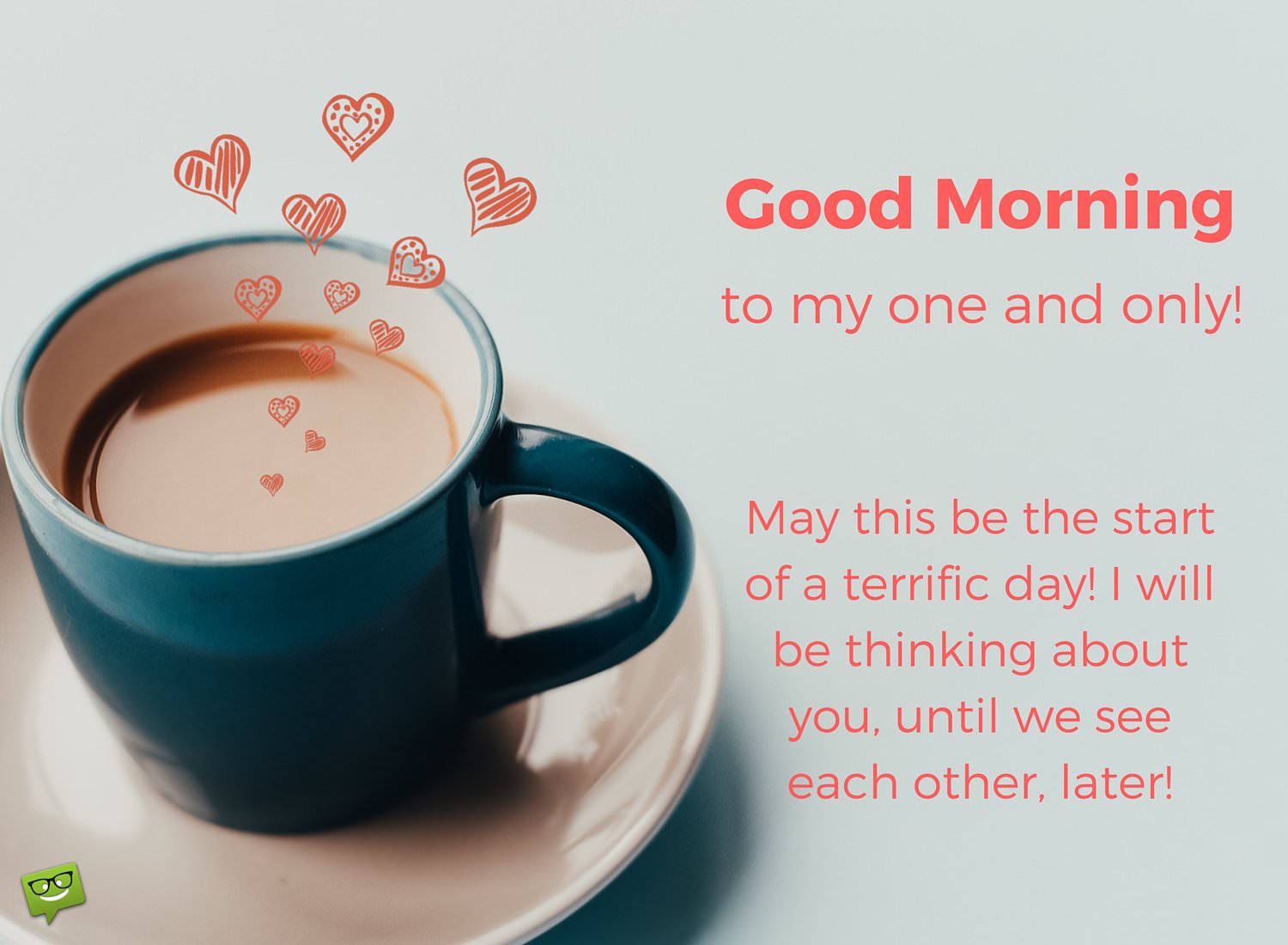 ---

The cold morning breeze reminds me of you – a tingling sensation I feel on my skin, bringing a surge of joy from within. Good morning.

---

Every night I fall asleep dreaming about what it would be like to hug you during the day and I pass every day imagining what it would be like to dream about you at night. Good morning.

---

You're the sparkling star, distributing your light evenly. In all those dark dungeons I kept Hidden all along. Have a Bright Morning!

---

I wish your search starts from Google but ends with me. I hope you find every answer to your queries in me. Have a Swift Morning!

---

You're my snap-story, my latest tweet. All over my Instagram feed because it's okay sometimes to show-off such a lovely person. Have a Trending Morning!

---

I wish to be in your awkward moments, getting to know things about you. Which no-one has a clue about? Have an Amazing Morning!

---

I want to be the reason you Get butterflies in your stomach, you get goosebumps, your heartbeat increases. Have a Romantic Morning!
Here was the list of Best good night messages for girlfriend. So wish your girlfriend with these Sexy good night messages and make her feel special.
Also, visit